AMK Self Drive - Rentman car rental software still keeping the company ahead of the game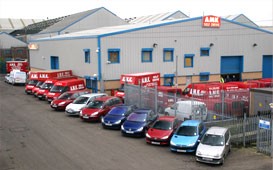 AMK is Glasgow's leading car hire and van hire specialists and has been using Rentman car rental software for around twenty years.
"There's plenty of car rental software out there today, but Rentman is still the best by far," says Andrew Mckinnon, AMK's managing director. "Life as an independent is always challenging, so it's important to use software that drives the business, is easy to use and - above all - is supported properly.
Rentman ticks all the boxes. It has helped us grow from very small beginnings to becoming the leader in our area. As to ease of use, it's not something dreamed up by a software engineer. It's been developed and refined over the years with strong feedback from users. That makes it very intuitive. It's also very modern; completely web based, which makes it very cost effective to use. Our people love it."
"It doesn't matter how robust a software system may be, there are times when you want to speak to real humans, rather than going through 'Frequently Asked Questions' or 'Support Tips' on a website. That's where Rentman really scores. Their support people are just a phone call away - we have their direct dial numbers and, over the years they have become good friends. They understand the rental business as well as the software"
---
AMK was launched in 1979 and has grown to a fleet of more than 500 vehicles, including a range of 4x4s, refrigerated vehicles and executive cars for all occasions.
Rentman has helped them compete with all the major competitors to become Glasgow's leading car hire and van hire specialists.